Protect Yourself From Scams
Scams are often disguised as messages from legitimate businesses, and Field Agent is not immune from this industry-wide trend. As a policy, all Field Agent work opportunities originate exclusively in the Field Agent mobile app, and we never reach out directly with chances to earn money, gift cards, or other compensation. To protect yourself, do not respond to any opportunities claiming to be from us that did not originate in the Field Agent mobile app.
See our tips below to avoid becoming the victim of a scam:
Check the Email Address
The very first thing you should do is check the "from" email address. If you see anything other than @fieldagent.net, you're not talking to the real Field Agent. We've seen many spoof email addresses that look a lot like "Field Agent," yet they're missing an "i," or the lower-case "L" is actually a capital "I". Check closely.
Here are some examples of scammy email senders: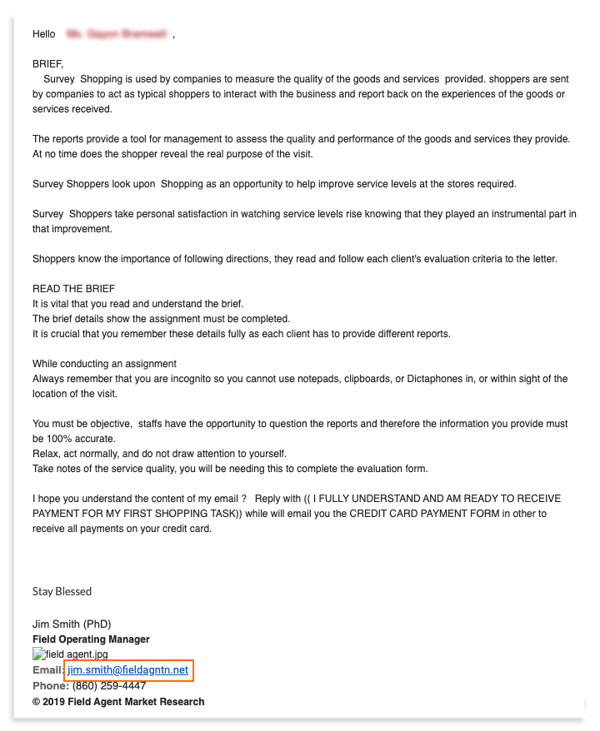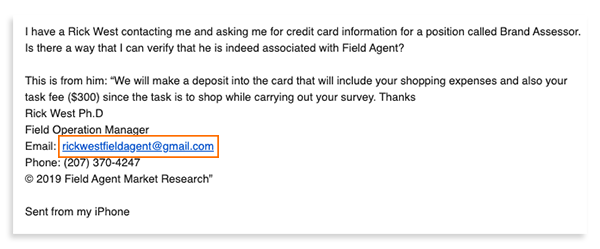 Be Cautious of Social Media Messages Offering Money
On occasion, our Business Development team will reach out to businesses through LinkedIn messages. They never offer money, gigs, side jobs, or gift cards in these messages. NEVER fill out a form from Google Drive, JotForm, or anything not hosted on FieldAgent.net. If the message says anything related to being "100% legit...," it's safe to assume it's a scam.
Here's an example of a scam message on LinkedIn: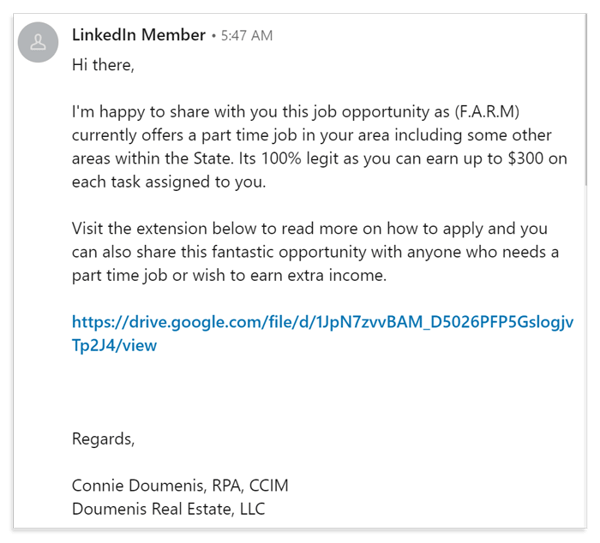 Get Paid
Exclusively

Through the Field Agent App

While we may occasionally seek feedback through email, the Field Agent mobile app is the only place to find paying work from Field Agent. We will never ask for personal information, present work opportunities, or offer incentives for work rendered outside the Field Agent mobile app. Occasionally we may use app notifications, which originate in the Field Agent app, to announce job opportunities, but this work is administered exclusively through the Field Agent app.

Emails or direct messages that promise gift cards, points, cash, or other rewards for completing certain tasks are not from Field Agent.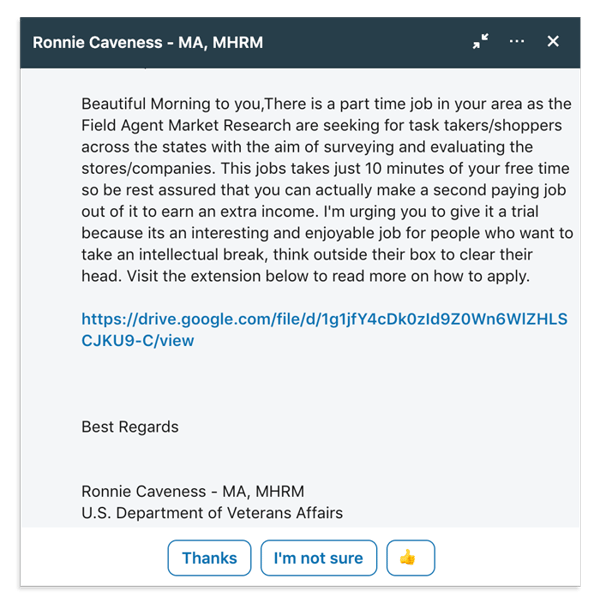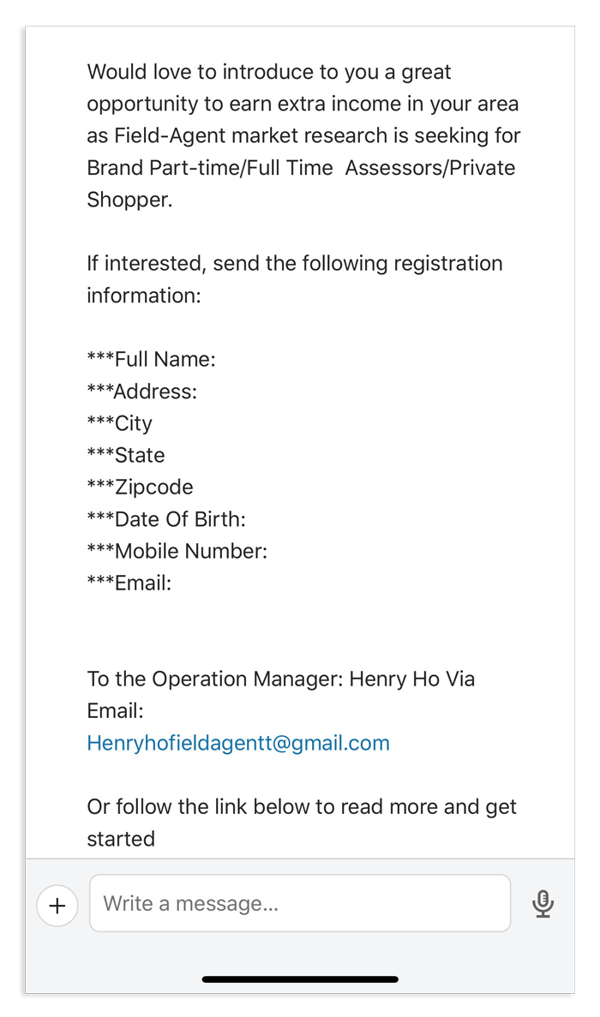 Never Give (or Verify) Personal Information Outside the Field Agent App
Scammers will stop at nothing to get your personal information and rope you into giving them your money. They may even use recognizable, otherwise credible tools like JotForm and Google Drive to disguise their scam. See the examples below.
We will never ask you for your personal information outside the Field Agent app, nor will we ask you to verify your personal information outside the app.
Example: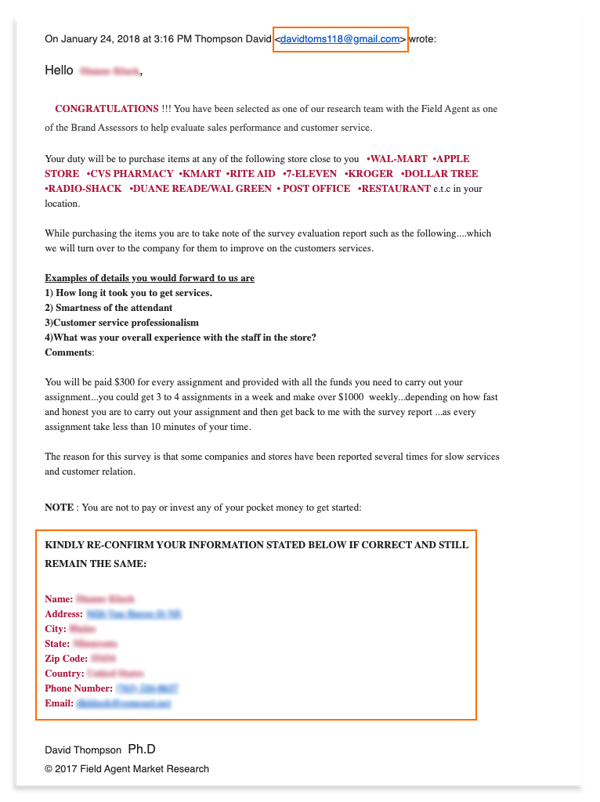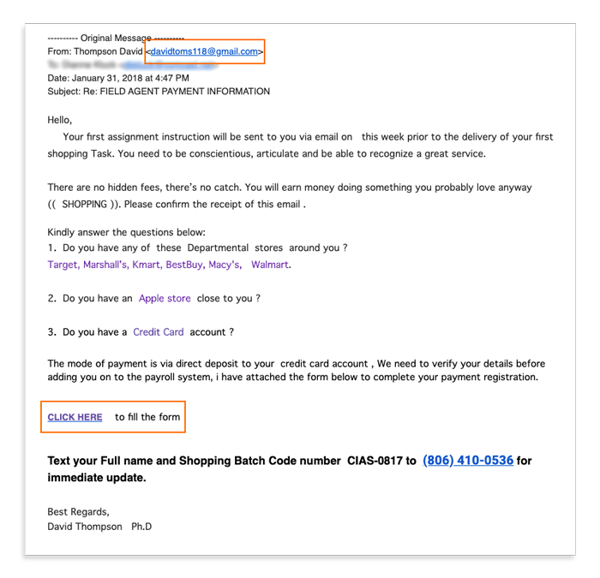 Are you the victim of a scam involving the Field Agent name?
They will investigate these reports on a consolidated basis versus a single occurrence.
As for any emails, social media messages, forms, or texts received from scammers, please report them to the app or platform over which the message was originally transmitted.
Be on your guard, and thank you for your understanding and assistance.